The 2021 Subaru Love Promise Community Commitment Award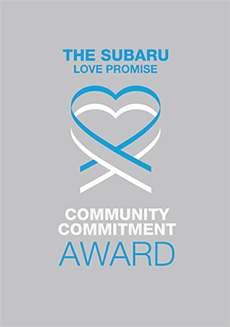 We've been nationally recognized for our dedication to our community and the Subaru Love Promise.
We're honored to receive the 2021 Subaru Love Promise Community Commitment Award. This award nationally recognizes Subaru retailers who are making the world a better place while demonstrating an outstanding commitment to supporting passions and causes in local communities. These efforts are focused in important areas such as the environment, community, health, education, and pets.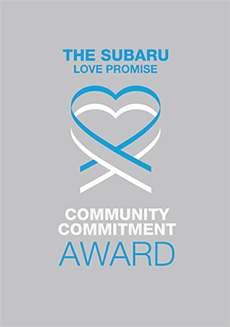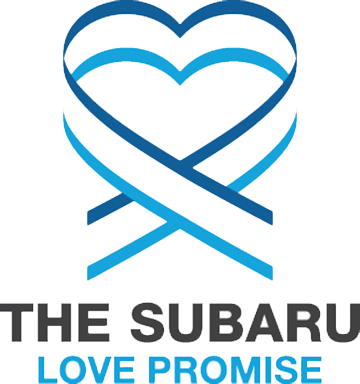 What is the Subaru Love Promise?
Subaru and our retailers believe in making the world a better place and the Subaru Love Promise is our vision of respecting all people. This is our commitment to show love and respect to our customers and to work to make a positive impact in the world.
How is Berman Subaru of Chicago dedicated locally to the Love Promise?
Our Love Promise can be seen in various partnerships with local charities and non-profits. We're grateful for the opportunity, not only to be a part of our community, but to serve it as well.
Love Promise Stories from Berman Subaru of Chicago
Subaru and Berman Subaru of Chicago believe in making a positive impact on the communities in which we live and work. We uphold that belief through our Love Promise Community Commitment. Every month, we select inspiring stories from customers and partners from around our area who strive to support our collective commitment and feature them here
Senior Pup Finally Finds a Family - Matt L
Brody's a ten-year old southern gentleman turned PAWS Chicago alumni. We'll never fully know the life he led before making the journey to PAWS, but we hear he grew up on a farm, away from the hustle and bustle of a city and with room to stretch those long legs of his. For a senior pup who'd only lived in the country, the Windy City was loud and scary. Like so many of the animals in our care these days Brody's always been independent and set in his ways, prefers a calm, quiet family without children, and needed to be the only pet but despite it all, we were dedicated to finding him a home where he could feel safe. Throughout his time with us, we worked hard to learn what made Brody tick. Our Medical Center provided all the TLC many senior pets need to feel happy and healthy, our foster team found him foster homes tucked away from the busy streets of Chicago, and our adoption team continued searching for his home. And just last month, we found it - Brody's home for good with his foster fail mom, Karen. Every day, more animals like Brody come to PAWS. They need special homes to meet their specific needs. To everyone else, they might seem like underdogs. But not to us. We'll never stop fighting for the pets who need an extra hand to find a home. Brody's proof that with some patience and the right people, they can be wonderdogs. If you'd like to make a difference in the life of an animal like Brody, sign up to foster at www.pawschicago.org/foster.
---
Berman + GiGi's Playhouse Chicago Dance-A-Thon! - Anna M
On November 14th, 2020, GiGi's Playhouse Chicago put on their 6th annual Dance-A-Thon virtually! This is the biggest fundraiser of the year for this non-profit organization, which serves individuals with Down syndrome in the Chicago community by providing free therapeutic and educational programming. Berman Subaru played a huge role in this event, being a top level sponsor and helping to produce the video, which was the main piece of the event! We are so thankful to Berman Subaru for all of their support and for helping us to make this Dance-A-Thon a huge success. We were able to raise over $61,000, and because of this we are able to continue to provide our programming virtually and hope that we can open our physical doors to the Playhouse once again soon in the future. Check out the video full of performances, dancing, and more! Thanks Berman Subaru of Chicago, we appreciate you!!
---
Warm Blankets for a New Home - Alessandra D
In November 2020, a family of 5 (comprised of two adults and three children) transitioned out of Casa Central's La Posada Transitional Housing program and into permanent and stable housing. They had been selected from the City of Chicago Coordinated Entry System (CES) for permanent housing for a full year. This couldn't have come at a better time as things for the family were finally falling into place. The husband had been initially employed as an Uber driver for a few months but then stopped due to the risks from covid; he then got a call from a pizza restaurant to work in the kitchen and has been employed there ever since. Other unexpected challenges made their transition to permanent housing a bit rocky, such as getting their utilities successfully turned on, but they were delighted to receive warm blankets through Subaru. Received just in time for the cold weather to hit, the blankets are helping the family furnish and settle into their new home and make it theirs. Thank you, Subaru for your generous donation!
---
Berman Subaru + Swedish Covenant 07-11-19 - Michelle M
On July 11, 2019,the Illinois chapter of The Leukemia & Lymphoma Society (LLS) andBerman Subaru of Chicago partnered together to make a difference in the lives of people fighting cancer at Swedish Covenant Hospital in Chicago. We had the pleasure of delivering 80 cozy blankets, 7 arts & craft kits, cheerful flowers and soothing stuffed animals to patients in the Cancer Treatment Center through a program called Subaru Loves to Care.These comforting gifts were accompanied by personalized messages of hope and inspiration written by the customers and staff of Berman Subaru of Chicago. We had the opportunity to deliver, a few of these items to Caroline,a patient receiving treatment at the facility. Being able to deliver a small gesture of comfort that day and seeing her smile, perfectly captured why the program exists.Caroline's face lit up when Joe D'Andrea, General Manager of Berman Subaru of Chicago, brought a small bouquet of bright flowers for her to enjoy as she sat, wrapped up her brand new blanket. Just as she reached her hand out to accept the flowers, Joe saw a tattoo on Caroline's forearm and asked what it symbolized. Once again, her eyes lit up at the opportunity to talk about her Irish family heritage that the tattoo represents. Joe couldn't contain his excitement, he immediately showed off a similar tattoo of his own and said, "I'm Irish too!" as they high-fived. Caroline explained how she had always wanted to take a genealogy test to know more about her family heritage but, with everything going on,it's just too expensive to do right now. Inspired by her story, her strength,and her contagious smile, Joe said that he and his friends at Berman Subaru of Chicago would pay for her to get the test kit. Shocked by, and yet so thankful for,his generosity, Caroline hugged Joe with tears in her eyes. Many thanks to everyone at Berman Subaru of Chicago and Swedish Covenant Hospital,not only for an unforgettable day, but for your passion to connect with and serve your community and for supporting the LLS mission to cure blood cancers and improve the quality of life of patients and their families.
---
A Record Breaking Day - Amy A
World Down Syndrome Day (WDSD) is March 21. It is a day of global awareness which has been officially observed by the United Nations since 2012. The 21st day of the 3rd month was selected to signify the uniqueness of the triplication (trisomy) of the 21st chromosome which causes Down syndrome. At GiGi's we celebrate the day to help raise awareness of what Down syndrome is, what it means to have Down syndrome, and how people with Down syndrome play a vital role in our lives and communities. We started the day visiting Ogden Elementary, a Chicago Public School. The kids learned about Down syndrome and how we are all more alike than different. They took the Generation G promise to be kind, accepting and generous. Later in the day, elementary students from North Park Elementary School stopped by to visit GiGi's Playhouse Chicago. They also took the Generation G promise, learned more about GiGi's and decorated socks to hang at the playhouse (chromosomes have the same shape as a sock so we 'rock our socks' and wear fun or mismatched socks to raise awareness). Between the two schools, we had a record-breaking number of individuals take the Generation G pledge! Families, friends, and supporters started arriving at 4 pm for the party. The playhouse was decorated with balloons, streamers, banners and more, thanks to a wonderful group of students from the University of Tennessee. They selected GiGi's as an "alternative Spring Break" site to volunteer. They not only helped with decorations, but also helped set-up, prepare the food, and even made an awesome banner for World Down Syndrome Day and had our families add their handprints. As families arrived, many brought friends and their relatives to celebrate and send a global message of acceptance. Additionally, the St. Viator Girl Scouts were also here to help lead activities and lend their support. Later, participants from the GiGi's Dance program took the stage to perform a choreographed dance routine they have been working on. They were full of confidence as they moved to the music and the audience could see how much they loved to dance and be front and center! Following the awesome dance, and performing in front of a record-breaking number of people attending our celebration, Hugo's Elvis took the stage! Hugo, a high school senior at nearby Lane Tech, rocked the playhouse with a dynamic tribute to the early years of the king of rock 'n' roll! Our families loved him and it's easy to see why with his amazing voice and the kindness he shows to everyone. We celebrated the day with so many but having the team from Berman Subaru of Chicago at our event was the icing on the cake! GiGi's was so honored to be their Subaru Love Promise partner in 2018/19. They made it a record-breaking day by presenting us with our largest single donation ever. Their gift will allow us to continue to provide free educational and therapeutic programs to individuals with Down syndrome of all ages and SO MUCH MORE. We will be releasing details of what's to come on our website in the next few weeks. Even more, their support doesn't stop there. We are working together with Berman Subaru of Chicago to explore possible internship opportunities for our participants with Down syndrome. Berman Subaru of Chicago is showing the world what acceptance really looks like and that individuals with Down syndrome deserve the same respect and opportunities as anyone else. Thank you to Berman Subaru of Chicago for leading the charge! We are so excited and proud to have celebrated WDSD 2019 with you. It truly was a record-breaking day in every way. Together, we are raising public awareness and creating a single global voice for advocating for the rights, inclusion, and well-being of people with Down syndrome.
---
Dancing For Down Syndrome - Amy A
Thank you Berman Subaru of Chicago for partnering with GiGi's Playhouse Chicago for our 4th Annual Get Down With Down Syndrome Dance-A-Thon! This event brings together individuals with Down syndrome, their families and friends, and the community to show support and promote acceptance for all. Berman Subaru joined the event as a community partner and helped us have an amazing and successful event. GiGi's Playhouse Chicago is part of a national network of Down syndrome achievement centers. Every day, we provide FREE, life-changing therapeutic, educational, and career training programs for 30,000+ individuals of all ages. By offering free programs, we EMPOWER families by maximizing opportunities for daily achievement and lasting acceptance. We truly appreciate Berman Subaru of Chicago joining us at the dance-a-thon and making a difference in the lives of children and adults with Down syndrome.
---
Berman, Swedish Covenant Hospital, and LLS - Susan W
Thank you for partnering with The Leukemia & Lymphoma Society and selecting Swedish Covenant Hospital to receive your cozy blankets through Subaru Loves to Care! The patients are enjoying them and appreciate your kind thoughts and generosity!
---
Finding Pets Homes & Supporting Local Heroes - Erica B
Berman Subaru of Chicago's partnership in Pet Gotcha Day's Heroes to the Rescue event not only aided in helping dogs from five local rescues find their forever homes, but also supported our local fire & police heroes. This event was made possible thanks to their generosity and commitment to animal welfare. Our red carpet runway raised more than $14K and provided the much needed exposure to the rescues who provide love for animals in need. On behalf of the rescues we serve, Thank You!
---
ALIVE Rescue Adoption Event - Kristen G
Thank you so much for opening your doors to ALIVE Rescue for an amazing adoption event. All of the dogs and volunteers had a great time. We truly appreciate all the support.
---
Chicago Police Memorial Foundation - Bridget S
The Chicago Police Memorial Foundation is proud to partner with Berman Subaru of Chicago for the Share the Love event. The Chicago Police Memorial Foundation is a not-for-profit organization dedicated to honoring the lives of our fallen heroes. The Foundation provides support and assistance to the families of Chicago police officers who are killed or catastrophically injured in the line of duty. Since the first officer to die in the line of duty, there have been 580 Chicago police officers who have sacrificed their lives for our city. The families of these brave officers are supported by the Department and other organizations, but as one might imagine, the cost in terms of financial, emotional and psychological support is overwhelming. Other, perhaps less-known risks associated with being a police officer are the stresses of the job. This stress often leads to disastrous consequences such as when a police officer takes his own life. Finally, as a tribute to the heroic lives that these officers led, the Chicago Police Memorial Foundation has built a permanent memorial to these brave men and women. It is a spectacular site located just east of Soldier Field on Chicago's lakefront. We are proud to continue the work we do and grow our community partnerships to include Berman Subaru of Chicago.
---
Joey's Fight - Paul H
My name is Paul Hoel and I am the Head Baseball Coach at Hinsdale South High School. Last Sunday (10-15-17) the Hinsdale South Baseball Program was fortunate enough to host and play a small role in Joey V's fight against DIPG. I wanted to say how thoroughly impressed I was with the professionalism and empathy displayed by Dan D'Andrea and the Berman Subaru Team. Dan did an unbelievable job of organizing this event and bringing awareness to the debilitating disease; Diffuse Intrinsic Pontine Glioma (DIPG). Seeing Joey round the bases with his father was inspirational for everyone and the community involvement and support for one of their own was refreshing and heartwarming. Kudos to Dan and the Subaru team for making everyone more aware of DIPG. Kudos to Joey and his family for fighting this disease with dignity and strength.
---
Subaru BUILDs Opportunity - Andy W
Success doesn't just happen. It comes from hard work, a good plan, and faith in the idea that little things can add up to great accomplishments – whether it's leaving gang life behind, applying to college, or building a great car. It takes commitment – a quality Mid City Subaru shares with BUILD, which has transformed thousands of young lives with pioneering violence intervention and youth development programs since 1969.Every day, BUILD helps Chicago's young people put painful experiences behind them and focus on a better tomorrow. Our youth face obstacles and live in struggling neighborhoods, but they learn quickly that their potential is boundless. They never give up -- because BUILD never gives up on them. They take small actions that count, like learning to manage emotions, practicing public speaking, or creating a new work of art. When they stumble, BUILD is there to help.They do the heavy lifting. Mid City Subaru understands that kind of commitment, and has been a generous friend to every BUILDer. We couldn't do it without you, and are so grateful for your support.
---
Mid City Subaru remembered the forgotten kids . - Jonn B
Lydia Home has been providing Hope, Healing and Home to kids in foster care for over 100 years. We have up to 40 kids living here who do not have a family to spend holidays with. Last Christmas our neighbors Mid City Subaru reached out to us and asked how they could help. We had a desperate need for new supplies for our preschool and Mid City came through with all the supplies we wished for and then some. But they did not stop there; Mid City set up a winter wonderland at the dealership and invited our kids to participate. To top it all off, the dealership donated Christmas presents for all 40 Kids that live at Lydia Home. We are incredibly grateful for Mid City's generosity towards our kids and being great neighbors
---
Mid City Subaru BUILDs Community! - Adam A
Mid City Subaru has teamed up with BUILD, Inc. a youth service non-profit organization that works to reduce violence and save youth lives in some of Chicago's toughest communities, to provide $15,000 to support their youth programs. We appreciate Subaru's belief in the principle of Kaizen - big results come from many small changes accumulated over time. BUILD's programs are designed to meet both the immediate problem of preventing at-risk youth from joining gangs as well as working with gang-involved youth to develop alternatives to this destructive lifestyle. Every small change a young person makes over time puts them on the path to realize their educational and career potential and contribute to the stability, safety and well being of our communities. Kaizen. Thank you Subaru for helping us build a safer Chicago for some of the most vulnerable children and youth!
---