Why Choose Subaru?

Sure, you show up for the looks- but what makes you stay for the ride? It's not all about superficial qualities; love finds its way into your heart when there's a little more under the hood. 
It's that certain something that grabs your very soul and consumes your thoughts. Somehow it hooks you and no matter where else you look, or how many fish are in the sea, you just won't find anything else that makes you feel the same way.
It's the Subaru Boxer® engine and it's unlike anything else on the road. It's the heart and soul of the Subaru and it's just one of the reasons so many people fall head over heels for the Subaru brand. 
With a century of technology backing it, the Boxer® engine combines optimal power with a soul-calming balance to produce a heart-racing love affair between car and driver.
Precision is found in every perfectly balanced Subaru vehicle. Thanks to the Subaru Boxer® layout, the engine is able to align with the drivetrain, adding improved handling response and sharp corner cutting.
The counteracting push and pull motion of the flat, horizontal Boxer® engine produces fewer vibrations than the competition for a smoother ride year after blissful year.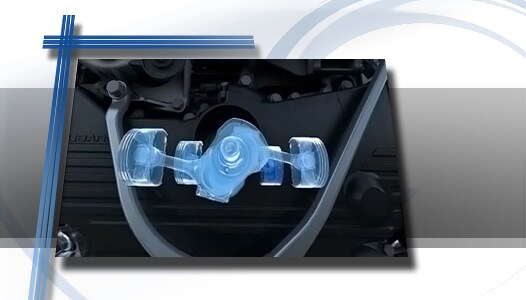 The famous Subaru Boxer
®
 engine
Once the initial infatuation stage has settled, the Subaru all-wheel drive will provide the stability needed for a long-term love. 
Subaru's Symmetrical AWD continually grabs for every bit of traction possible. And if slippage does occur somewhere down the road, the AWD system sends power to the wheels with the best traction to keep you steady and secure. Every vehicle that Subaru produces 
(excluding the zippy BRZ) 
comes with this stability feature that allows for a quicker response to slippery conditions. Turbulent road conditions won't shake this love story.
Security in a relationship is necessary for any long-lasting bond, and Subaru is in it for the long haul. Not only is Subaru the only manufacturer with IIHS Top Safety Picks for all models, they've managed to achieve this honor four years in a row (2010-2013).
How did Subaru manage to become the safety standard? Practice. Subaru crashes their cars over and over to find ways to make you safer. Every crash test Subaru performs is monitored and evaluated allowing the standards in safety to be pushed. It's through these controlled crashes that Subaru finds ways to make their vehicles safer than ever thought possible. With Subaru, safety comes standard. The Impreza 2.0i comes loaded with over 15 different safety features. Everything from Vehicle Dynamics Control to Break Assist is packed into the vehicle for precautionary measures. Subaru's loving embrace is designed to keep you safe.
We all know looks fade and while your Subaru's paint may not be as shiny 10 years down the road, it can still drive you wild. *Over 96% of all Subaru vehicles sold in the last 10 years are still on the road today. One Subaru even managed to start after spending 6 months at the bottom of a lake* If you're looking for longevity set your sites on a Subaru. 
So why choose Subaru? Because you dream about it.

 Why Should You Choose Subaru Over the Competition?
Subaru offers a Guaranteed Trade-In Program
Engineering: Excellence in engineering and decades of rally racing experience is poured into every Subaru vehicle. 
They are long lasting and dependable: 96% of all Subaru vehicles sold in the last 10 years are still on the road today *Polk

Safety drives Subaru design: Subaru is the only manufacturer to have IIHS Top Safety Picks on all models for three years running.

Subaru has great resale value: Kelly Blue Book awarded Subaru the 2011 KBB Best Resale Value Award.

Subaru cares about the environment: Subaru was the first automotive plant in the U.S. to achieve zero landfill status and Subaru has 3 Partial Zero Emission vehicles